As of January 22 2010
General guidelines
[
]
The equipment booking only needs to be done once in the beginning of the term. The form needs to be handed to the av center 48 hour before the event (or the intended use day) so av center has enough time to process the request. On the day of the event, people who have signed up to get the equipment should go to the av center before 4:30pm (i.e. before they close). The time that the equipment will be ready for pick up will need to inquire the av center. The equipment needs to be returned between 8am to 8:30am the next day.
Please cancel the equipment book if it is not needed for the week. You can either drop by or call them.
Procedure:
[
]
Pick up the "av form" from Karl Kliewer (SLC 2127) If you cannot find his office, you can ask the feds office for directions.
Fill in the form (see samples in the following pages)
Ask whoever is available to pick up the projector on the day (usually between 3pm-4:30pm) to put down their name and phone number. They need to put down the name shown on their watcard.
Please also ask if anyone is able to return it on Friday before 8:30 AM.
Bring the form back to Karl.
After he signed, make a photocopy of the form (or a scanned copy) and bring it to E2-2350 (av center). Note again we need to hand the form to av center at least 48 hours before the day of the event.
More information: http://av.uwaterloo.ca/equipment/clubsoc.html#feds
Sample 1
[
]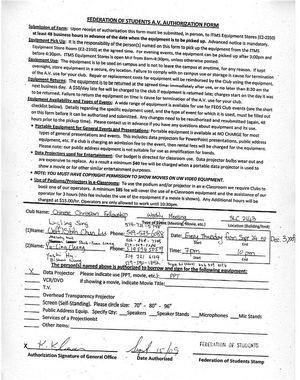 Sample 2
[
]